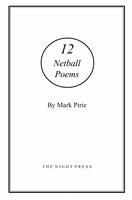 12 Netball Poems
12 Netball Poems by Mark Pirie is a collection of poems celebrating the game of netball and its players. Included is a sequence of poems 'Five Silver Ferns Portraits' in honour of some of New Zealand's finest netball players (Maria Tutaia, Laura Langman, Casey Kopua, Sandra Edge and Leilani Read).
An addenda by Napier poet, former scientist and politician Bill Sutton celebrates Irene van Dyk, a Silver Fern great.
S A N D R A   E D G E
Sandra Edge, you stole
my mother away
with each neat pass
after dinner.
I saw her sitting in
our kitchen watching
fingers crossed
as each test
counted down…