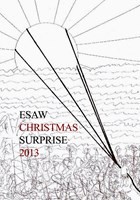 ESAW Christmas Surprise 2013
In the spirit of the Beatles who put out a Christmas record for their fans, Earl of Seacliff Art Workshop, the Poetry Archive of NZ Aotearoa (PANZA) and HeadworX offer to you, our friends and clients, this small token for your enjoyment.
Poems on All Black Kieran Read, polynesian legends, retired NZ cricketer Chris Martin, pop hero John Lennon, the Wahine disaster, Christmas, cricket and more.
Contributors: Michael O'Leary, Brian E. Turner, F. W. Nielsen Wright, Mark Pirie, Short Stay and A. Stanley Sherratt.
Download and view the free pdf of this book (on the right - 599KB)