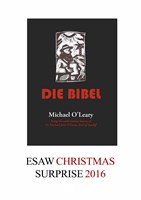 ESAW Christmas Surprise 2016
In the spirit of the Beatles who put out a Christmas record for their fans, Earl of Seacliff Art Workshop, the Poetry Archive of NZ Aotearoa (PANZA) and HeadworX offer to you, our friends and clients, this small token for your enjoyment.
Poems on David Bowie, Leonard Cohen, surfing, tennis, Christmas, poems in 'inscriptive text' by Niel Wright, and a short play by B. E. Turner.
Contributors: Michael O'Leary, B. E. Turner, F. W. Nielsen Wright, and Mark Pirie.
Download and view the free pdf of this book (file size 479KB):