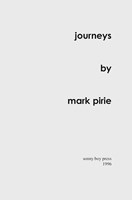 Journeys
Journeys is a poem sequence that was first published in the magazine Takahe, No. 26 (June 1996), Christchurch, New Zealand. The poetry editor was Bernadette Hall.
The sequence is dedicated to the composer/poet/film-maker/ethnomusicologist Paul Wolffram.
A private edition of 10 copies was printed later that year. No archival copy exists in libraries. A digital copy can now be made available from the author's files.
The poem was set to music by Wolffram and a copy of the sheet music published by Original Books in 2010 is held in the Alexander Turnbull Library, Wellington, New Zealand.
The public performance of Wolffram's music score was in 1996 at Victoria University of Wellington's School of Music.
Download and view the free pdf of this book (on the right - file size 295KB).