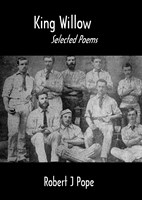 King Willow: Selected Poems
Robert J Pope (1865-1949) was a well-known Wellington poet, cricketer and songwriter in his day - and till the end of the 1940s he held a reputation as a national songwriter for his school song 'New Zealand, My Homeland' - but today, his work is little known and out of print.
Pope's poetry, lyrically gifted, showed musical flair and easy felicity of rhyme. He began writing and publishing in earnest during the Edwardian era, and his work notably covers the two world wars and the national politics of the period, 1902-1944.
His most interesting work concerns sporting verse on the 1924/25 All Blacks "Invincibles" tour of Great Britain and France and suburban satires on Wellington city-life. Pope was a leading light verse parodist of his day, publishing mainly in the Free Lance and The Evening Post, and was a precursor to the 'Wellington group' of the 1950s.
This selection gives a substantial picture of the man and his times and restores a significant New Zealand poet. Previously uncollected and unpublished poems and music scores accompany selections from Pope's two published books. An appendix includes a selection of his prose writings, including his Wellington club cricket essay and sporting 'contorts and retorts'.
"This selection of Robert J Pope not only 'gives a substantial picture of the man and his times', it gives a significant New Zealand poet the recognition he should have always had."
- Alistair Paterson, Editor of Poetry NZ.
Download and view the free pdf of this book - music scores only available in print version of this book (on the right - file size 3.3MB).
Sample poem:
THE ALL BLACKS by Robert J Pope
Sound, trumpet and drum,
For the All Blacks have come,
  Bowed down 'neath their burden of glory;
They have put in the shade
Old Achilles, and laid
  On the shelf all the heroes of story.
Neither England nor France
Could withstand their advance,
  Though 'gainst Newport they had a near squeak;
Old Ireland fought gamely,
Nor did Wales suffer tamely
  The process of eating the leek.
Nicholls, Nepia and Cooke
All played like a book,
  As did Parker, the Brownlies, none fleeter;
And more I could name
Who have just as much claim,
  Were it not for the bonds of my metre.
Yet it might be as well,
In case our heads swell,
  To remember a former mishap;
Let us not crow too loudly,
Or bear ourselves proudly.
  South Africa's still on the map.
Then here's to the boys
Who have made such a noise
  In all lands where the oval is kicked,
While they've burnished her fame,
They have guarded her name,
  And returned to New Zealand "unlicked."