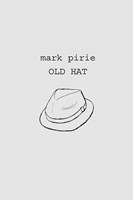 Old Hat
Mark Pirie's new book, Old Hat, is a collection of triolets, or extended epigrams, covering a wide variety of subjects, including sport, history, literature, childhood, biography, contemporary events and film.
Figures as wide-ranging as Cleopatra, the World Cup winning All Blacks, cricketer Gary Sobers, baseball star Babe Ruth, Formula 1 driver Ayrton Senna, writers Dorothy Parker and Margaret Mahy, sprinter Usain Bolt, musician Bob Dylan, and Jack and Meg White of the rock duo The White Stripes come to life in its pages.
"[Pirie] displays a wicked sense of humour and a cunning sense of style."  - Bill Direen, New Zealand Listener
Download and view the free pdf of this book (below sample poems on the right).