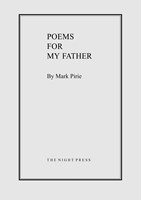 Poems for my Father
Poems for my Father is a collection of Mark Pirie's poems for, concerning, or related to his father.
The poems form a sequence written between 1993 and 2008 and cover a range of subjects from childhood travels to family portraits and reunions.
Leo the lion, American President George Washington, poets Allen Curnow and James K Baxter, and the Great Diviner of the Pyramid in Uxmal, Mexico, form unlikely starting points for Mark Pirie's experiences. His father is ever in the picture.