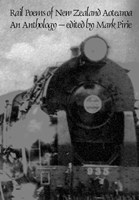 Rail Poems of New Zealand Aotearoa: An Anthology
The railway has been a dominant presence in New Zealand life for a century, connecting freight and people.
In this new collection of rail poems, editor Mark Pirie presents a fresh and vibrant journey through many facets of the railway and explores its significance in our daily lives.
Contributors: Anon, Fleur Adcock, Marilyn Duckworth, Michael O'Leary, FWN Wright, Kim Eggleston, Louis Johnson, Jan Kemp, Fiona Kidman, Ron Riddell, Will Lawson, Jean Hamilton Lennox, Roger Wrighton, Hugh Isdale, Stephen Oliver, Peter Olds, MK Joseph, Rhys Pasley, Mark Pirie, Alistair Paterson, Simon Williamson and Peter Cape.
Download and view the free pdf of this book (on the right - file size 3MB).