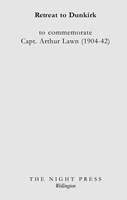 Retreat to Dunkirk
Retreat to Dunkirk was published on Anzac Day 25 April 2013 in New Zealand.
The booklet is to commemorate the editor's great uncle Captain Arthur Lawn who died during World War II.
Arthur served with the 10th Battalion Durham Light Infantry and survived the Dunkirk retreat. His letter home was published in New Zealand papers in 1940. He died at sea near Iceland in 1942 when his ship was torpedoed by a German U boat.

The booklet includes Arthur Lawn's letter home about the Dunkirk retreat, and a poem by the editor, 'The Snow Goose', for Paul Gallico.
Download and view the free pdf of this book (on the right - file size 378KB).