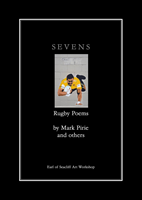 Sevens: Rugby Poems
Sevens is a collection of poems on the game of rugby and its players. Included is a sequence of poems 'Three All Black Greats' in honour of several of New Zealand's finest rugby players.
An addenda features seven other rugby related poems Mark Pirie has recently been sent or has published as an editor/publisher. Poets included are Tony Beyer, Margaret Jeune, Jane Matheson, Bill Sutton and C A J Williams.
The book constitutes a seven-a-side game, two halves of seven poems each or two sides made up of seven poems each.