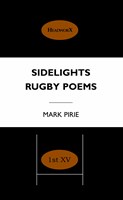 Sidelights: Rugby Poems
Sidelights features poems about the All Blacks, Super and provincial rugby, women's rugby and the author's own rugby family.
First published as a limited edition hand-bound booklet in 2013, this new enlarged edition contains rugby poems from the past four years and is accompanied by historian Ron Palenski's informative foreword.
The book's title "Sidelights" comes from an Eden Park rugby column of the same name in the Auckland Weekly News, 1930s.
Wellington writer and editor Mark Pirie's poems, written between 1993 and 2017, have been widely published in journals, anthologies and newspapers such as Ron Palenski's Touchlines: An Anthology of Rugby Poetry (NZ Sports Hall of Fame, 2013), Under Flagstaff: Dunedin Poetry (Otago University Press, 2004) and The Dominion Post.