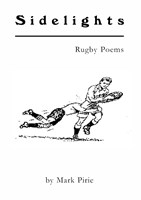 Sidelights
Featuring poems about the All Blacks, Super Rugby and Mark's rugby family, this book is dedicated to Mark Pirie's rugby playing Grandpa Tommy Lawn.
Contents:
Sidelights [Blues v Hurricanes, April 2013]
The Divided Country
At the Try Line [for Brian Turner]
The Waiting Game
Two Rugby Epigrams
Four Poems on my Grandfather Tom Lawn
My Great Uncle
The Wandering Bard
Five All Blacks Poems [includes Sam Cane, Piri Weepu, Kieran Read, Richie McCaw]
The poems, written between 1993 and 2013, have been widely published in journals, anthologies and newspapers such as Ron Palenski's Touchlines: An Anthology of Rugby Poetry (NZ Sports Hall of Fame, 2013), Under Flagstaff: Dunedin Poetry (Otago University Press, 2004) and The Dominion Post.
Cover printed letterpress by Tony King at The Printing Works, Cobblestones Museum, Greytown, Wairarapa, New Zealand.
Download and view the free pdf of this book (below sample poems on the right - file size 258KB).