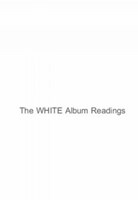 The White Album Readings
Winter Readings is an annual event in Wellington organised by HeadworX Publishers, Earl of Seacliff Art Workshop and Kwanzaa - the Afrikan Shop in conjunction with Wellington City Council and the City Gallery. The aim is to promote New Zealand poetry to the wider public through a series of lively readings taking place in the winter months in Wellington. Each year an anthology of the readers is produced and is edited/compiled by Mark Pirie and published by the Earl of Seacliff Art Workshop.
This year's readings celebrate 10 years of HeadworX Publishers in Wellington, and are a tribute to The Beatles' 1968 self-titled album (also known as the white album).  
Winter Readings 2008 featured: Mark Pirie, Harry Ricketts, Richard Langston, Rob Hack, Niel Wright, Helen Rickerby, Evelyn Conlon, Will Leadbeater, Michael O'Leary, Gemma Claire , Marilyn Duckworth and Bill Dacker.
Download and view the free pdf of this book (on the right - file size 3.2MB).