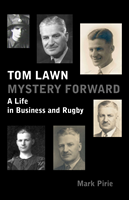 Tom Lawn: Mystery Forward: A Life in Business and Rugby
Tom Lawn: Mystery Forward: A Life in Business and Rugby is the biography of New Zealand businessman and rugby player Tommy Lawn.
Lawn played during the golden period of New Zealand rugby in the 1920s close to the All Blacks "Invincibles" of 1924/25. He earned Canterbury representative honours in 1925 and played with and against some of the greats of his era. He was a fine club player in an era of great players and fast moving forward and back play. In 1938, he coached North Shore to 4th in the Auckland 1st Division Championship with All Black/Kiwi legend Bert Cooke.
After rugby, he had an eventful business career with the famous Canterbury agricultural implement firm Booth, Macdonald & Co. Ltd. He survived the depression years at their Auckland Penrose factory, then was promoted to general manager of the company in Christchurch in 1939 just before the outbreak of the Second World War.
During the war, Tom Lawn became the first employer in the country to hire women in his Christchurch factory, for the making of munitions.
Using company minute books held by the Macmillan Brown Library at the University of Canterbury, the book tells the story of the trying times and changing circumstances faced by the firm. Boothmacs eventually ceased their agricultural design and production in the late '50s, during a new era of industrial growth for the country.
This tribute, written by his grandson, Wellington poet/editor/literary scholar Mark Pirie, gives a lively account of his grandfather's rugby and business career with additional family history material relating to the Lamason Lawn family of Taranaki.